If you don't already know, our huge Engineer Prints are only $30, or $25 for squares! You can get a 4 ft. x 3 ft. print to make your walls pop with excitement, whether it be an art piece, photos of landscapes, loved ones, precious pets, products, you name it. We've laid out all the details here to make your ordering process smooth and fun.
Printed in Wisconsin and made on industrial printers typically used for architectural and engineering work, your photos are printed in halftone black and white ink or lofi color on extra-light 20lb bond paper. There's half an inch border on all sides, so the image itself is 35"x47" (or 35″x35″ for square). Your images can be printed portrait or landscape orientation, 36"x48" or if you're doing a Square Engineer Print, 36" on all sides.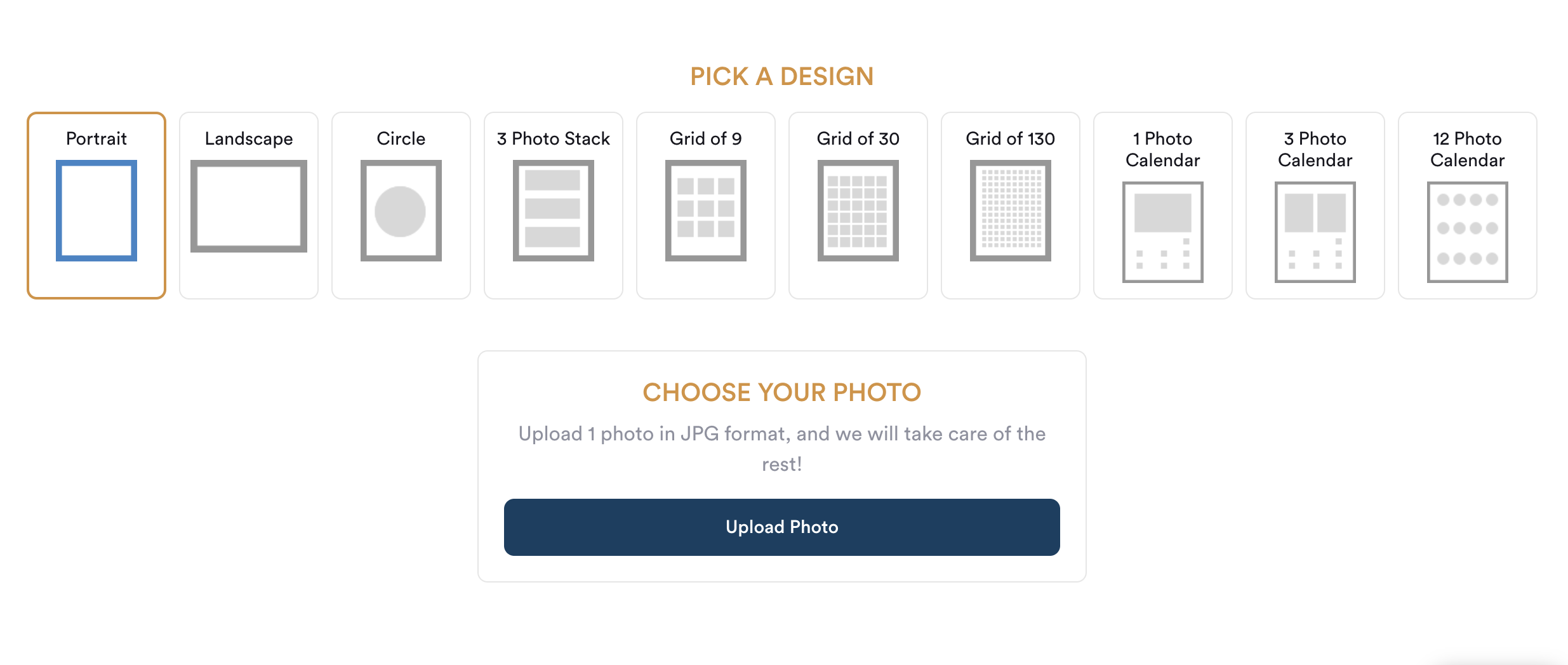 Getting Creative With It
Print one giant photo in a rectangle, or try it as a circle. We even have Calendar Templates too! You can also print a grid of 3, 9, 30, or 130 of your best images with our design templates. To preview your photos in these awesome templates, check out the Engineer Print page, select an option and press continue.
Engineer Print template size specifications:
130 grid – 3″ squares
30 grid – 6″ squares
9 grid – 10″ squares
Triple stack – 20″x 13″ rectangles
Uploading Your Files
When uploading your image, we recommend sticking with a size of 5-10mb (300dpi if you're able to check the resolution of your file). Smartphones take really amazing photos these days, but sometimes the resolution can still be blurry. If your image is too small, our website will warn you before you place your order to tell you it may print out blurry. This warning doesn't appear when ordering on our app, so we recommend always ordering Engineer Prints through our website.
Hanging Your Prints
Engineer Prints fit perfectly with our wooden poster rails, so much so that you get a discount when you bundle! 36″ rails fit images in portrait orientation and 48″ rails fit images in landscape orientation.
In order to safely send your Engineer Prints, we ship them to you all rolled up. To flatten or remove the curled edges, leave it flat overnight (on top of a table or other hard surface) with books on the corners. Gravity will flatten the rest once it's hung up. You can also try rolling the print the opposite way that it was packaged.
Get yourself a human-sized print by ordering on our Website today!