It's officially Holiday Card season! Nothing makes us happier than printing joyful cards for you to share with friends and family. This year, we're extra excited because our 2022 Holiday Cards are cheerier than ever. With your joy in mind, we made very merry updates like…
100+ designs: you can now browse through more designs than ever before⁠
 Back of card text and photos: share your favorite holiday recipe or the happiest part of your year⁠
 Envelope addressing: wave goodbye to writing addresses yourself with our easy uploader⁠
'Tis the season to be prepared with addresses, photos, and your favorite holiday recipe. Keep reading for our pro tips to go from stressed — to signed, sealed, delivered — in no time.
If you're ready to print (go you!), create your custom Holiday Cards on parabo.press today.
Step 1: Collect Addresses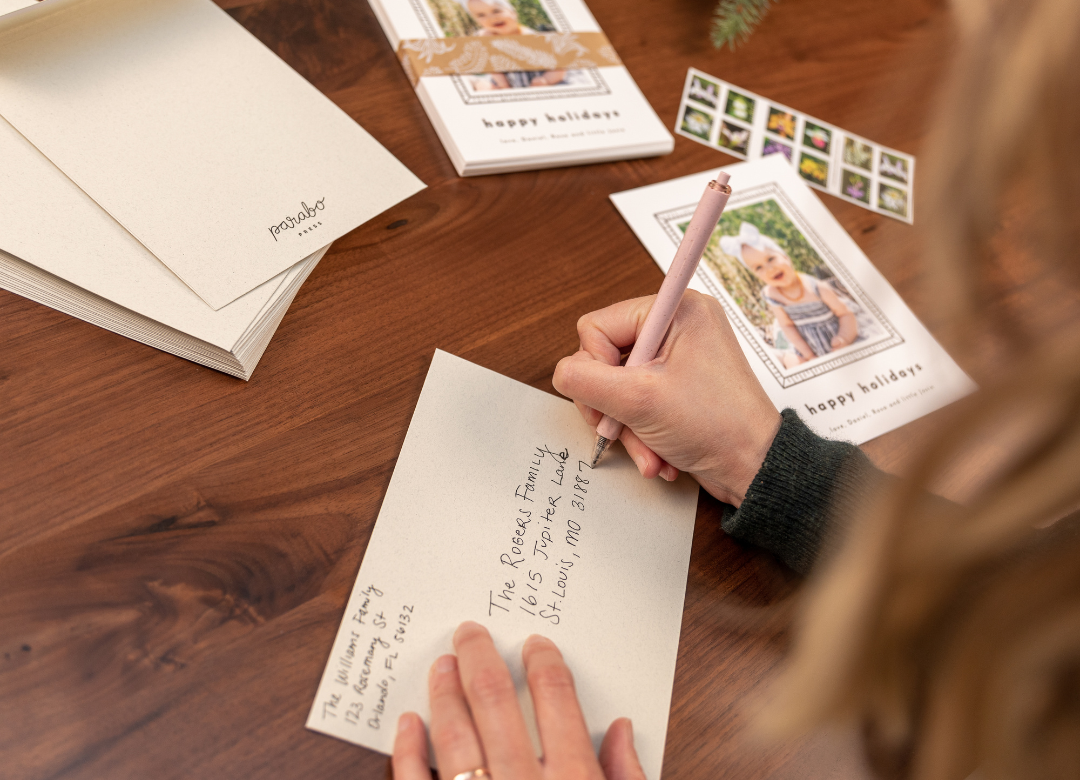 This step can feel like a chore, so here's the easiest way to collect Holiday Card addresses. You'll probably have to call Mom to double check Grandma's zip code, but for your more tech-friendly pals, a simple social post can do the trick! Simply make a Google Form to collect your friends' info. It's quick to set up, then all you have to do is share the link to your form (on social media or a group email) and when your friends submit their info, Google will organize it all in a handy spreadsheet. Spoiler alert: This year, you can upload your spreadsheet straight to our site and we'll print addresses on all of your envelopes for you!
Step 2: Choose Your Photos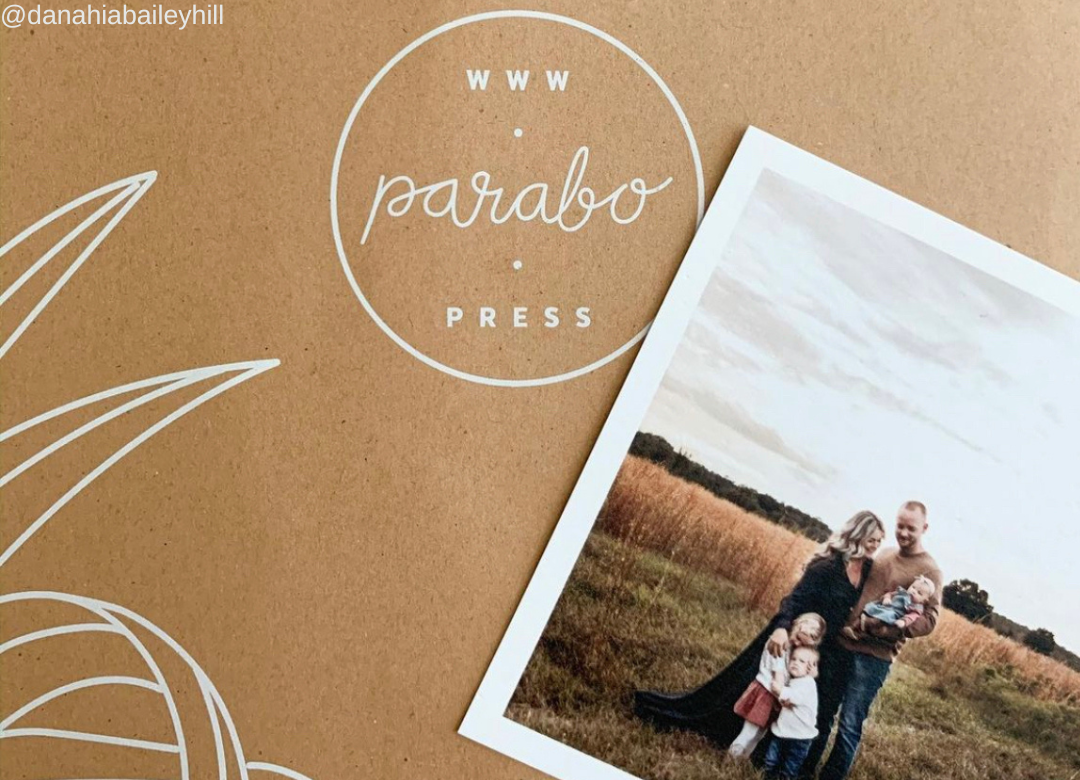 Time for the fun part! Go through your camera roll and select the photos you instantly like the most (if scrolling through your camera roll on an iPhone, heart the photo to add it to your Favorites album). Of your collected photos, which ones make you laugh and smile the most? From there, carefully go through and omit photos that are a bit blurry, too busy, have someone's eyes closed, or are too similar. Use this opportunity to narrow down your selection to no more than five photos. Pro-tip: Print up the photos that don't make the final cut on a set of Classic Prints!
Still need to take Holiday Card photos? Here are our 3 favorite unconventional family photo ideas:
1. Family makeover! Randomly assign each family member to dress another. You're sure to get some unforgettable outfits.
2. Rapid pose: Have everyone in the family stand behind the camera and start the 10 second self timer. Then rush into the shot and strike a pose, quick! You're sure to catch some genuine smiles.
3. Share a recipe: Photograph the kids chowing on your family's favorite dish or dessert (a pose they'll be happy to hold) and share the recipe inside your card.
Speaking of family photos, show us your cheer! Now through Thanksgiving Day, tag us on Instagram in your silliest family photos (the funnier the faces the better) and use the hashtag #ParaboCheerChallenge. Three lucky fams will receive free sets of Holiday Cards!
Step 3: Card Design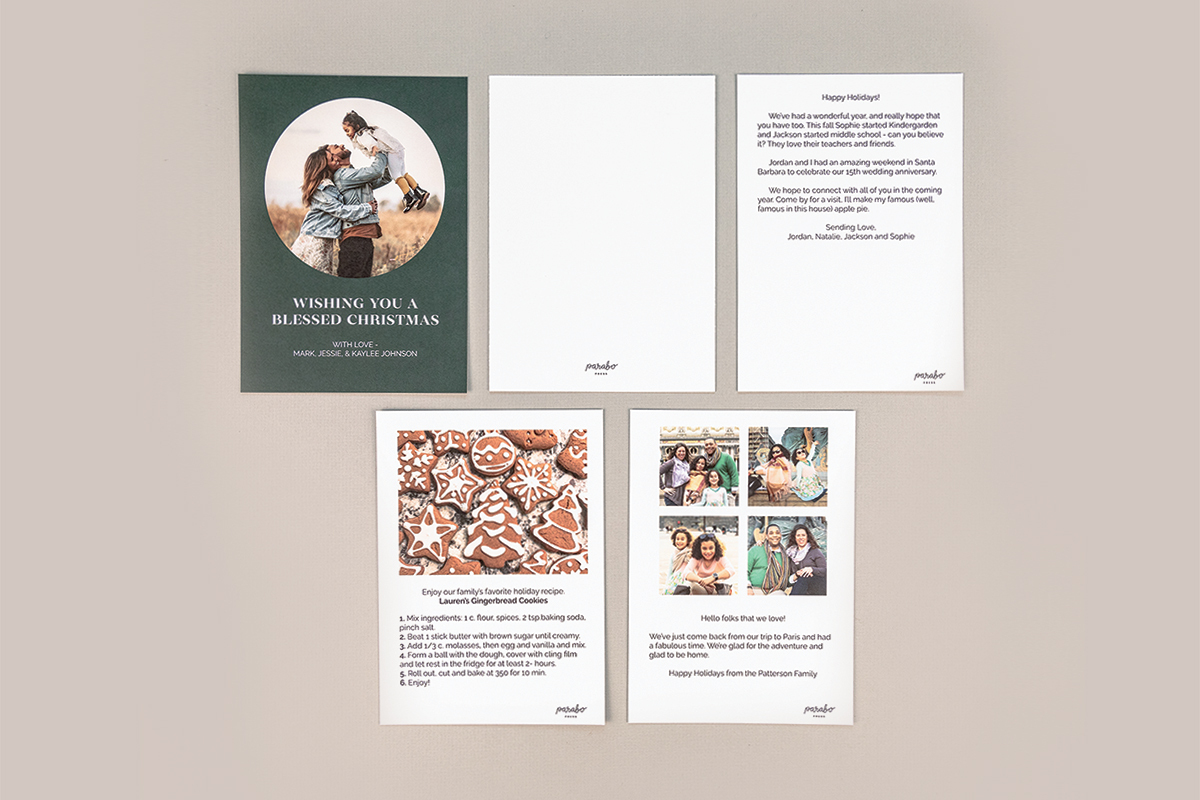 Now that you've identified photos for your card, let's think about the design. Two major Holiday Card design features to consider are:
Your greeting: You can now narrow your card search down on parabo.press based on your greeting! Choose between Christmas, Hanukkah, and more to personalize your card.  This year, we'll have over 100 designs for you to browse to find the greeting that's perfect for your family.
Add a photo on the back: Do you want to highlight multiple photos or is there one clear winner that takes center stage? Use the back of your card to add additional text and photos to showcase more of the happiest memories from your year!
We hope this guide makes you feel as excited to send out Holiday Cards as we are. Head to parabo.press to create your Custom Holiday Cards today.