We love holiday cards! We love how December means more than junk mail in the ol' mailbox. We love seeing how cute our friends' kids/pets/selves have gotten.
So, we've decided to do our part to get even more love circulating through our trusty postal service, by adding Holiday Cards to our app (they're just $25 for 24 gold-foiled cards and $15 for additional sets). And, by whipping up this guide for you, on how prepare for holiday card season. Tips to get your best cards yet out to your friends and family.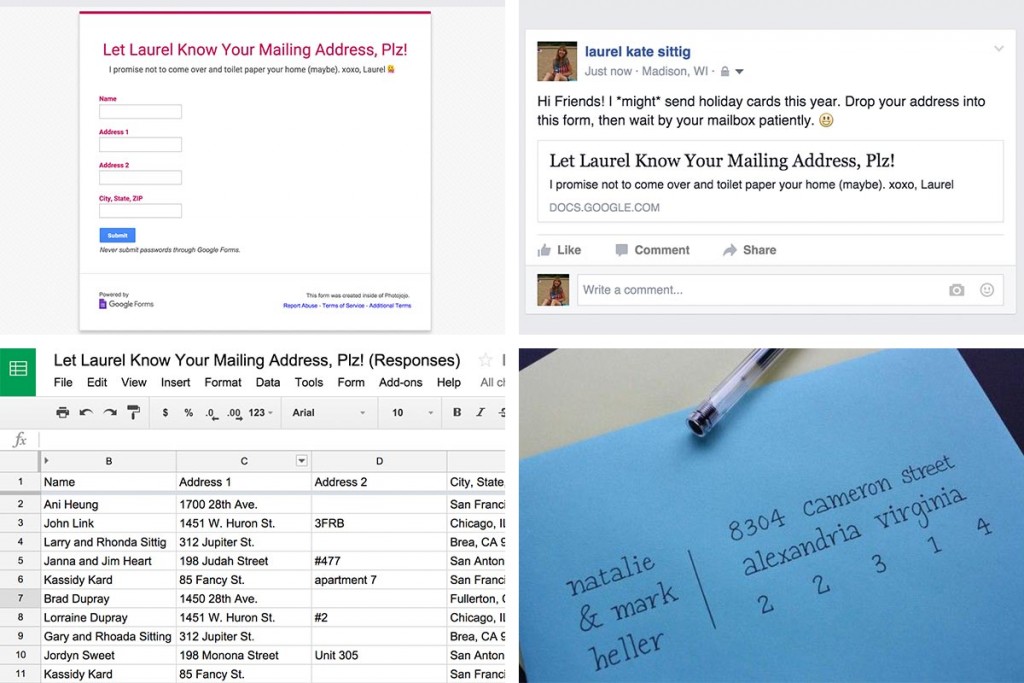 Collect Addresses
Honestly, step one is the hardest in the Sending Out Christmas Cards Game. You'll probably have to call Mom to double check Grandma's zip code.
But for your more tech-friendly pals, a simple Facebook post can do the trick! Simply make a Google Form to collect your friends' info. It's easy to set up, then all you have to do is share the link to your form (on Facebook or Twitter or a group email) and when your friends submit their info, Google will organize it all in a handy spreadsheet just for you.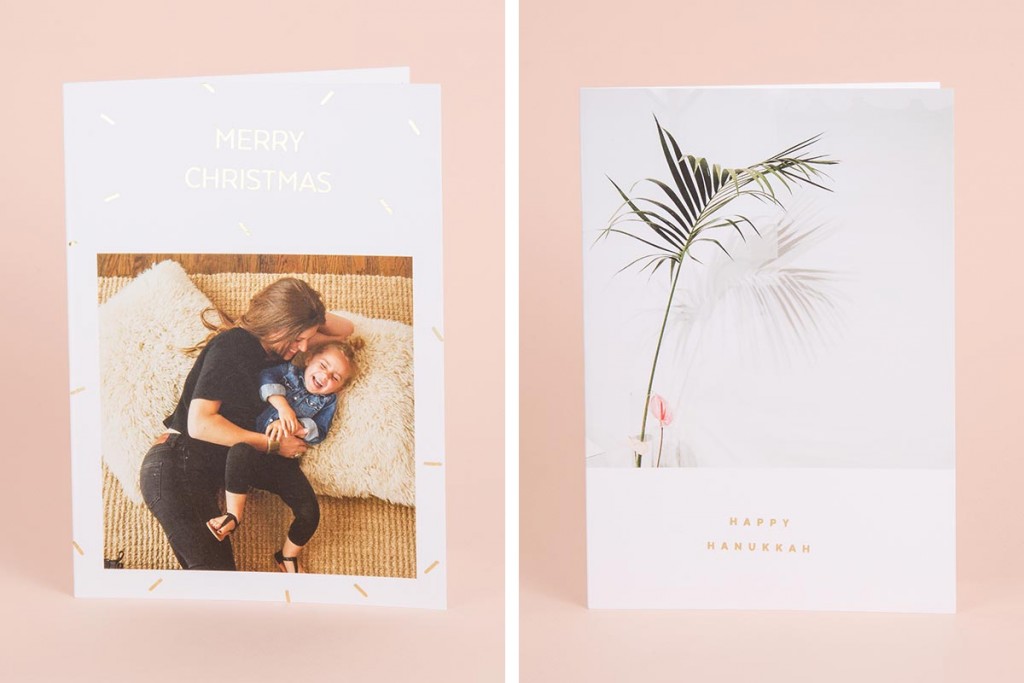 Ready Your Photo
If you want to show off your family but don't want to corral them into matching sweaters and a stairstep pose, you still have options. Here are our 3 favorite unconventional family photo ideas:
1. Family makeover! Randomly assign each family member to dress another. You're sure to get some unforgettable outfits.
2. Rapid pose. Have everyone in the family stand behind the camera and start the 10 second self timer. Then rush into the shot and strike a pose, quick! You're sure to catch some genuine smiles.
3. Share a recipe. Photo the kids chowing on your family's favorite dish or dessert (a pose they'll be happy to hold) and share the recipe inside your card.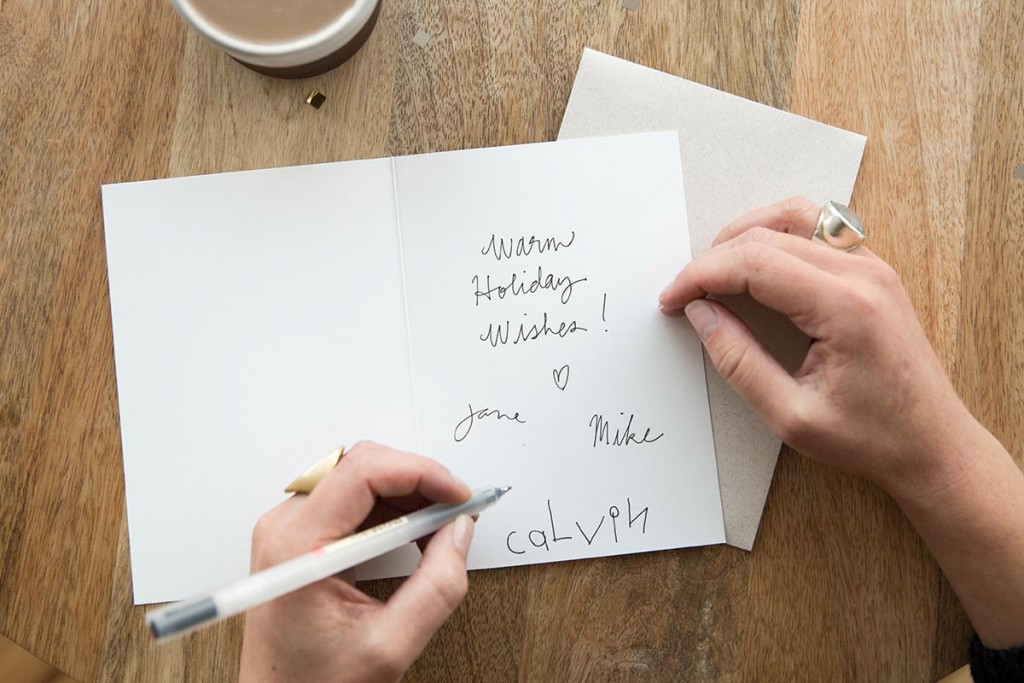 "Hire" Help to Sign the Insides
Okay, you don't have to have your kids fill out tax forms, so they're not technically employees, but bribing them with Christmas cookies does help.
Instead of giving yourself hand cramps spelling out well wishes to everyone you've ever known, get the whole gang in on the action. It can be a fun evening talking through your friend list with the kids. Share memories of each recipient with each other as each family member signs their name (or scribbles a little, depending on their dexterity with a pencil).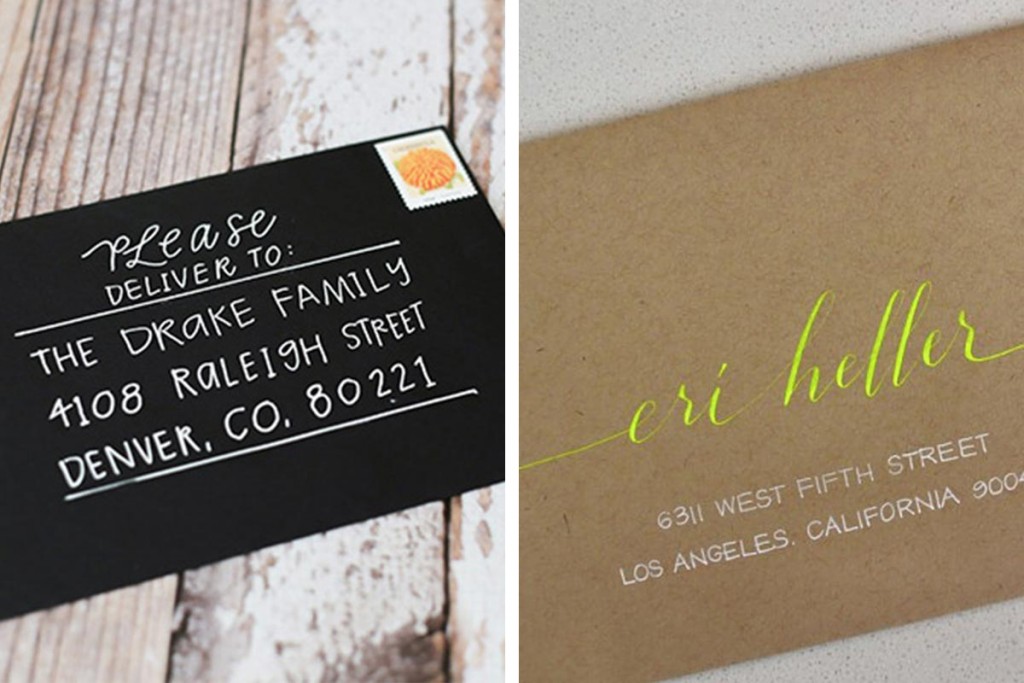 Address Your Envelopes with Style
There is almost no end to the fancy ways you can address envelopes on Pinterest. We've gathered just a few of our favorites here. Look at it as a chance to practice your handwriting and maybe throw on your favorite holiday movie (Home Alone, anyone?) while you're at it.
Oh, and to save you some amount of writing, we love the look of stamped return addresses. The fine folks at Lumi will let you upload any file (doodle your address to perfection, then snap a pic with your phone, no design software required) and they'll mail you a custom stamp.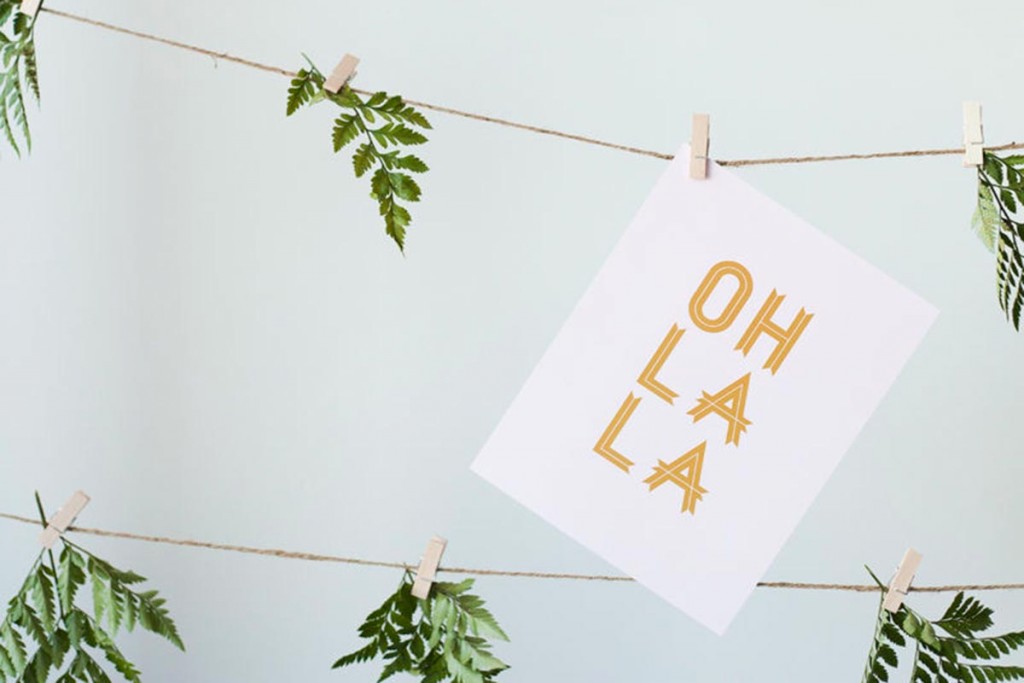 Display The Cards You Receive in Return
Our favorite way to display holiday cards, just might also be the simplest. Hang a string back and forth along a bare wall and clip or simply drape the cards you receive over it. Add some pizzazz by clipping up fern (or pine) sprigs to make the string more festive while you wait for it to fill up.
Whelp, you're all ready! You know just how to put your share of holiday cheer into the hands of a post-person, and get it out there to all your friends.
Now, open up the Parabo App, or click on through to our shop, and order up your Holiday Cards today.
Photo Cred: The Knot, Oh So Beautiful Paper, Anne Robin, Design Love Fest
Love print as much as we do? Become a contributor! Email editorial@parabo.press