Happy birthday to us. We started Parabo Press 4 years ago to give you a simple way to turn your personal memories into something you can hold onto – high-quality photo prints!
We can't thank you enough for letting us share in your joy, celebrate your story and help you hold onto life's moments with our thoughtfully-designed prints. That's our mission and we couldn't do it without you.
Since Parabo Press wouldn't be here today without you, we're celebrating with 25% off sitewide – just use the code BDAY4 at checkout – through Friday, 10/11/19.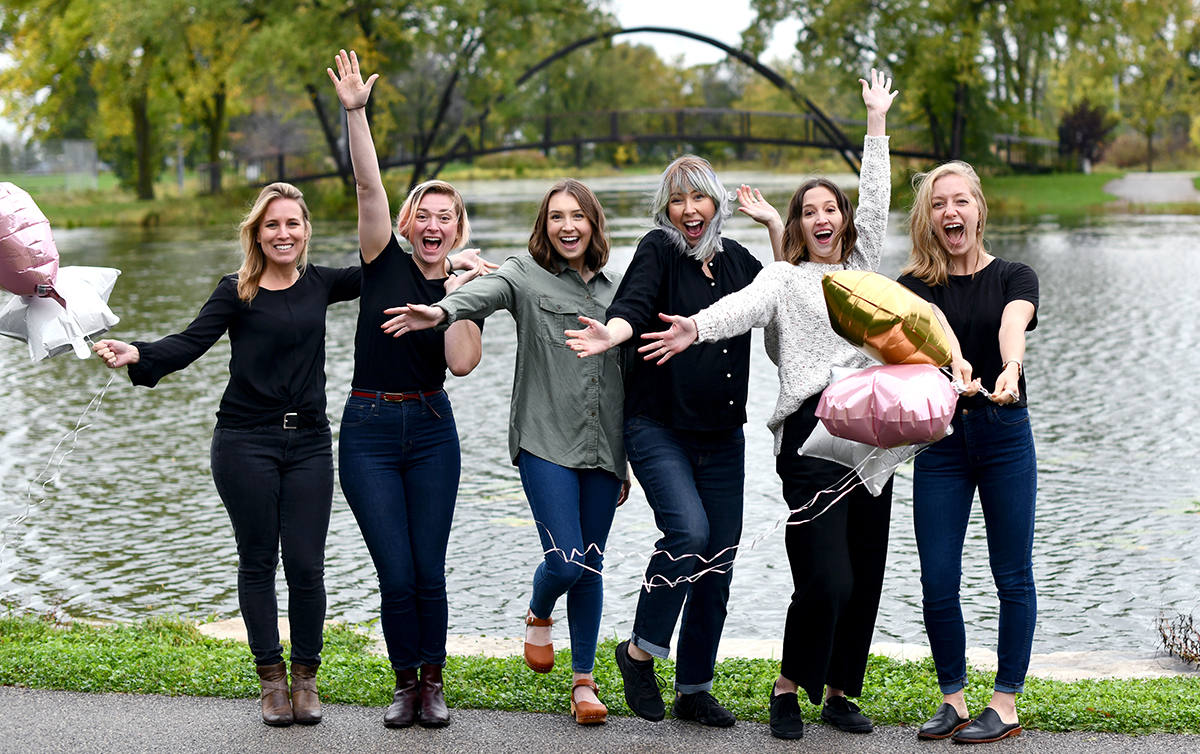 Now let's meet the team that makes Parabo what it is today. Here are the fine folks working at our HQ in beautiful Madison, WI.

Name: Janelle
Title(s): PR Manager & Proud Mom, able to wear up to a hundred hats at once
Fun Fact: I've lived in Italy and backpacked throughout South America. From surviving a giant caterpillar bite in the depths of the Amazon rainforest to trekking the awe-inspiring heights of Mt. Fitz Roy in Patagonia, I love a bit of adventure. That was pre kids. Now I'm a minivan-obsessed mom who loves family road trips.

Name: Katelyn
Title(s): Lead Customer Advocate & Office Barista
Fun Fact: My boyfriend and I are aspiring star hockey players. For now, we skate on Madison's lakes when they freeze over, but someday we'll be true stars.

Name: Katie
Title(s): Print Shop Manager & Competitive Jenga Player
Fun Fact: Saturdays are pancake day in our house. We're on the hunt for the world's best pancake recipe, and will happily taste test for as long as it takes to find it!

Name: Laurel
Title(s): CEO & Dog Mom (soon to be human mom too!)
Fun Fact: I've made two cross country road trips and visited 27 countries. Next on my bucket list is a trip to South America and taking our kid to every National Park (give me a couple decades, we've got this).

Name: Meg
Title(s): Director of Marketing & one half of the indie-rock band Seasaw
Fun Fact: I've always loved to bake, and I used to be a DJ (my stage name was DJ Megabyte). Recently, I combined these two passions and created the Instagram @cookiebytes, where I'm teaching myself how to decorate cookies while sharing all my latest music recommendations!

Name: Olivia
Title(s): Print Assistant & Founder of Underbelly
Fun Fact: Most people wouldn't call me particularly artistic (which is funny because I run a printed zine) but I do have mad embroidery skills.
Don't Miss our Sitewide 25% off Birthday Sale
Use the code BDAY4 at checkout for 25% off through Friday, 10/11/19.
Wanna get us something? Aww, thanks. Tell a friend about Parabo (and let 'em know they can save all week too).